NO RULES.
NO RESEARCH.
JUST BLOODSHED.
THIS IS... DBX!
__________________________________________________________________________________________________________________________________________________________________________________________
(Valhalla)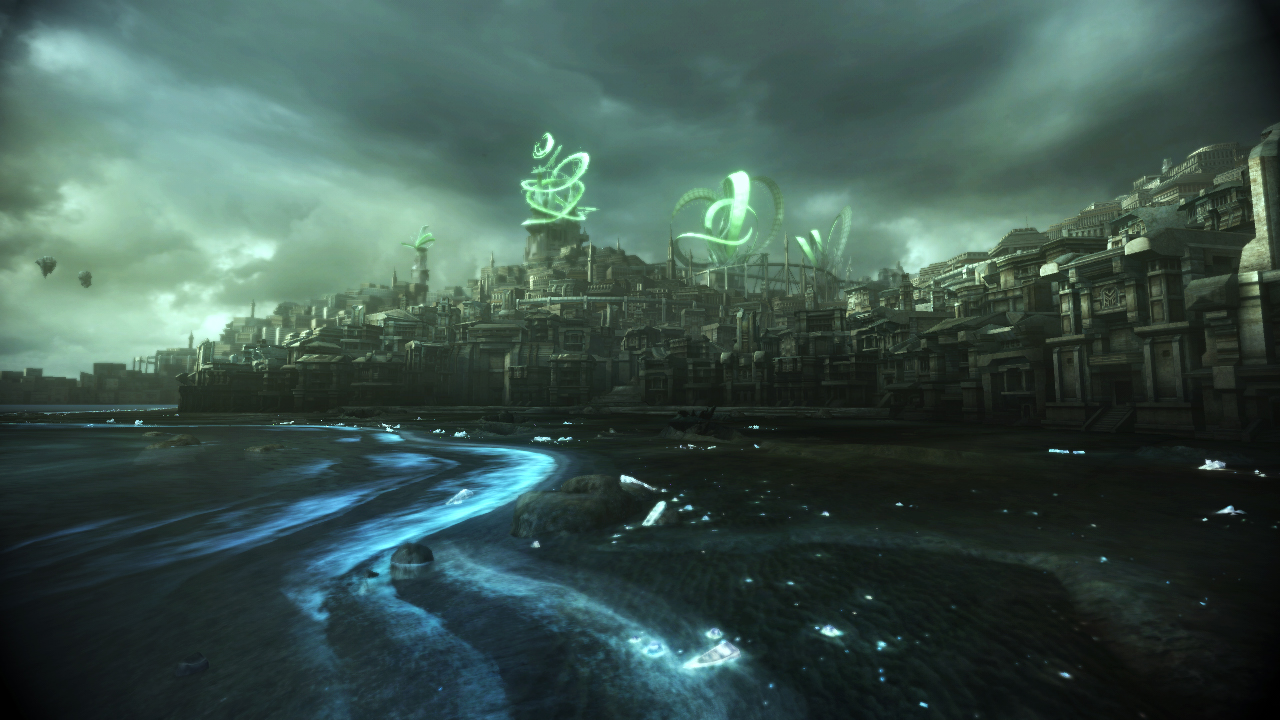 The desolate city of Fabulis Nova Crysallis, known more prominently as Valhalla.
In this sacred place, sealed away from the rest of time, no signs of life were present in the once-bustling metropolis.
None, however, except for one girl, clad in dark armor and carrying a weapon that crossed a sword and a gun.
The knight known as Lightning Farron was waiting for another attack by Caius Ballad and his monstrous army. As she patiently paced the top of a building, her eyes peeled for any signs of motion, her hand gripped her prized gunblade, Overture. Despite the constant threat, she had nothing to do but wait...
That is, until she heard the slightest movement behind her. The Savior quickly flipped out of the way as a heart-shaped pattern of blue bullets rocketed past the spot where her head had been just a spit second beforehand. Lightning quickly whipped around, Overture pointed at the attacker. Said attacker was a tall woman, one with a curvaceous figure and a dark, somewhat revealing outfit. Lightning quickly spotted no less than four guns attached to the Woman, two being held in her hands and two stuck to her heels. Naturally, Lightning inquired, "Just who are you? Another minion of Caius?"
The Umbra Witch known as Bayonetta replied with a smirk, "No idea what you mean, dear. But I'm bored, and you seem to be as well. Why not have a little fun to pass the time?", and took a fighting stance, both guns in her hands pointed at her soon-to-be opponent. Lightning sighed, and readied herself, saying "If you're allied with Caius, then I'll destroy you, just like all the rest.
Both Overture and Love Is Blue unleashed a hailstorm of bullets, each one clattering against those of their opposites'. Bayonetta slowly advanced while firing, maintaining her confident look the entire time. As soon as she stepped into close range, Lightning Jumped over the barrage and aimed her blade at the Umbra Witch. In return, Bayonetta Twisted out of the way, planting her foot into the I'Cie's gut and firing from the gun mounted there. The resulting blast sent Lightning tumbling backwards, but she caught her balance with ease and returned to her feet, casting Fire on the Witch. Bayonetta managed to dodge it just in time, and her smirk grew as Witch Time activated. As everything went purple and slowed, Bayonetta advanced at full speed and dealt a barrage of Kicks, punches, and bullets before Lightning had a chance to react. The result? The knight of Etro reeled with pain, and looked up to see a Giant fist headed her way. With one punch, the arm of Madama Butterfly sent Lightning falling off of the building, and the Umbra witch quickly pursued her.
Lightning quickly got her bearings, pushing off the wall of the building and landing on the roof of another, and pulling out her dual blade known as Heaven's Bridge. Bayonetta merely stopped, standing on the side of the wall as if unaffected by Gravity. The two stared eachother down for a brief moment, and Lightning maintained her stoic expression as Bayonetta's amusement grew. Neither would be fazed, however, as Bayonetta whipped out a pair of Grenade Launchers, One red and the other blue. Undine in hand, the Umbra witch leapt off the building and soared after Lightning.
This proved to nearly be a mistake, as Lightning summoned several bolts of electricity around Bayonetta, bolts which she deflected with ease, completing her landing. Pointing both launchers at Lightning, the Witch opened fire on her opponent, shooting two streams of Flame and Ice in her direction. Lightning spun her Heaven's bridge, and the blasts were deflected, hurtling elsewhere and leaving small craters in the impact zone. Bayonetta switched weapons from the Undine to the curved swords known as the Rakshasa, and leapt forward, clashing her blades against Lightning's.
For a few moments, the two swordswomen were a blur of purple and white flashes, neither backing down. Bayonetta finally managed to stop Heaven's Bridge in a standstill, and she took that oppurtunity to tease her younger opponent with a "Come on, you can do better than that, can't you?". Lightning responded by twirling her dual sword, causing Bayonetta to momentarily falter. Lightning followed this up by sweeping the witch off her feet and blasting her with a close-range burst of gray energy. The force from Ruin Sent Bayonetta tumbling, but the attack left no real damage. However, Lightning wasn't finished. As Bayonetta stood, She felt a bullet slam into her head, followed by several blasts of electricity. The last thing she saw before tumbling off the edge was Lightning's most powerful weapon in her hands: Omega Weapon.
Bayonetta shook the cobwebs out of her head, and stuck once again to the wall of the building. This time, however, she shouted, "AVAVAGO!", and her suit, which revealed itself as her hair, spiraled off of her body and formed a swirling portal Beneath her. Meanwhile, Lightning leapt after Bayonetta...
Only for something BIG to slam into her, forcing her back to where she started. As she scrambled to her feet, She was met with a gigantic dragon, its skin black and scaly, and it's maw bloodred. With a thunderous roar, Gamorrah prepared to chomp down on its meal. And chomp it did. Lightning found her body erupting with pain as the Demon thrashed its jaws wildly, tearing apart the Savior. Spitting the girl out, it raised its hear high and brought it crashing down. However, to its surprise, its meal had somehow caught it by the snout, preventing it from going any further. With a tremendous effort, Lightning pushed the demon back, and it reeled momentarily before attacking again. But that was all the time Lightning had needed.
She gracefully dodged Gamorrah's jaws and began dealing a series of heavy blows across its neck as it thrashed about, trying to shake her, but she didn't relent. After reducing its neck to a bloody mess, Lightning jumped into the air and came down on the Demon's head, impaling it through the skull with Omega Weapon. It reared in pain, thrashed more... and fell still. Its body faded away as Lightning quickly healed herself with a dose of Curaga, and took a moment to catch her breath. Then something came to mind, and she turned around to find Love is Blue pointed at her face.
"Forgetting about someone?"
Lightning swung as fast as she could, but it was to no avail, as the Umbra witch easily dodged it, activating witch time and sending the Savior into a world of pain as blow after blow rained down on her. With a well-timed kick, Bayonetta sent her opponent hurtling into the air, then twirled with a shout of, "PDEE BAMBA!". With a shake, a Gigantic humanoid woman climbed her way out of the portal Bayonetta summoned, and spread her butterfly-like wings as she looked up at Etro's knight. As Lightning's eyes focused on the newly-appeared Madama Butterfly, she knew she had to pull out her trump card: Army of One.
Regaining her balance, Lightning sped at Madama as the latter readied her fists, and the two clashed. Lightning glowed white as Omega weapon clashed with the Demon's fists, and both were matching eachother blow for blow. However, one good hit Staggered the demon, Giving Lightning the chance she needed.
"ARMY OF ONE!"
1. 2. 3. 4. 5. 6. 7. 8. 9. 10 hits. With every slash, Lightning wounded Madama Butterfly further. The demon fell to her knees as the Savior readied the final slash. With all of her might, she brought the blade down... Until she sensed something to her right. With an earth-shaking
SMASH
, Bayonetta's giant hammer, the Takemikazuchi, SLAMMED into Lightning with the same force that punched a god through a planet. Lightning actually screamed in Agony as she felt her bones crack under the pressure, but before she could even slam into the ground, Madama's fist slammed into Lightning, sending Omega Weapon flying and sending Lightning hurtling hundreds of feet into the air. As she was flung, Lightning saw Bayonetta approaching fast, equipping a demonic katana that glowed with red light. She closed her eyes... and accepted defeat.
In an instant, Bayonetta hit Lightning with hundreds of slashes with the Shuraba, Damaging her beyond the capacity of any normal human. She smirked as Madama Butterfly appeared beside her, and threw one single punch.
"I suppose I was wrong..."
(seconds later...)
The Umbra witch gracefully touched down and walked off as a shower of blood, metal, and body parts rained down from the sky.
"I guess you really can't put up a fight."
This battle's victory goes to...
BAYONETTA!!!!